For those of you upset to hear about Uncharted 4: A Thief's End being delayed (by only a month), Sony is making it up to you by announcing a Limited Edition PS4 Bundle which will launch on April 26 in North America and April 27 in Europe upon the release of the game.
In the US and Canada, a 500GB Gray Blue PS4 with a silk-screened image of Nathan Drake will be available on April 26 for $399.99 USD/$499.99 CAD. The bundle also includes a matching DualShock 4 and a physical copy of Uncharted 4, with the PlayStation 4 itself also featuring the PlayStation logo, Uncharted logo, and the phrase "SIC PARVIS MAGNA" in gold, which is Latin for "Greatness from small beginnings".
Pre Orders started  today and include a voucher for an Uncharted: Drake's Fortune Outfit, Golden Weapon Skin, and Uncharted Points to use in multiplayer
Beginning in early March, the Blue Gray Dualshock 4 controller will be sold seperately for $64.99 USD and $89.99 CAD.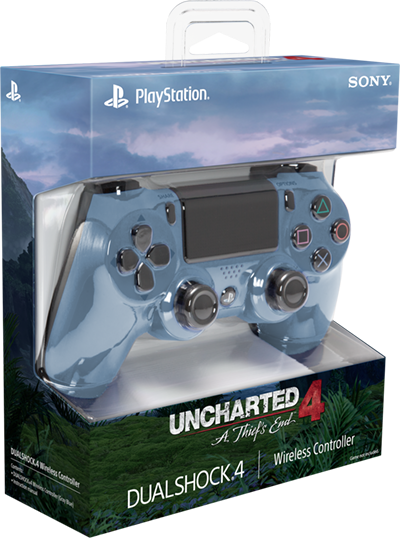 Also available early in March, a limited edition Gray Blue version of the Playstation Gold Wireless Headset will hit store shelves for $99.99 USD and $119.99 CAD.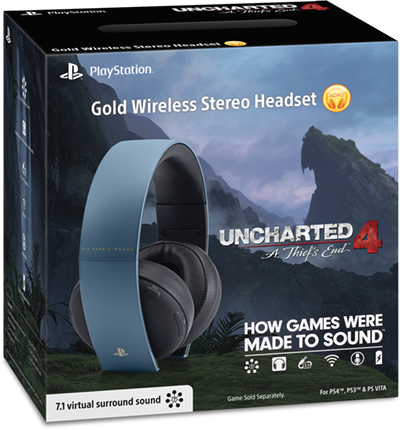 Europe will be offered a 1TB Gray Blue PS4 with all the fixings, although preorders have not yet started but are expected soon, along with pricing information. The Gray Blue Dualshock 4 will be available for purchase separately in Europe in early April.