Today, Nintendo's Nindies Summer Showcase…um…showcased (there is that college degree at work, readers) a whopping 22(!) indie games coming to the Switch between now and sometime in 2018. The presentation featured a lot of side-scrolling platforming titles with local and online four-player co-op, and a handful of surprises as well, such as:
Super Meat Boy: Forever – Where was Team Meat hiding a sequel to Super Meat Boy and why do I have to wait until 2018 to play it? Yes, readers, Meat Boy is back, and he's a proud papa! Though I'm not entirely sure how exactly an anthropomorphic piece of raw meat and a living clump of bandages(?) make a baby, but who cares about science when Dr. Fetus has gone and absconded with your adorable little Nugget! Parenthood certainly agrees with Meat Boy as  flesh bag can now punch and slide his way to victory. To top it off, the beefy sequel is set to debut on the Switch – take that, other consoles!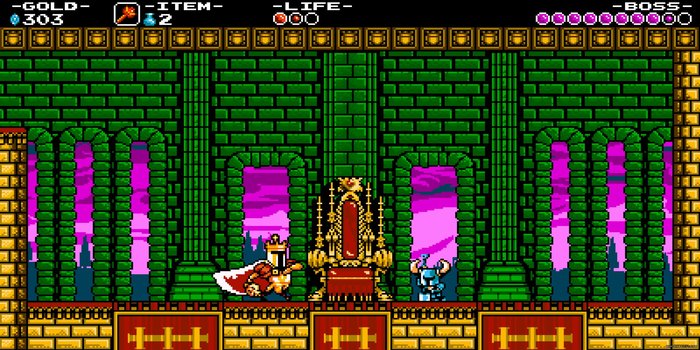 Shovel Knight: King of Cards – I really don't know how many times I've played through Shovel Knight…and I really don't care; MORE PLEASE! King of Cards brings the final story-based chapter to the critically acclaimed 8-Bit indie title. Playing as the King Knight, this prequel takes the golden-colored goon through four new worlds with over 30 courses to take down the Three Kings. But wait, there's more! In addition to the side-scrolling fun, King of Cards comes packed with –  you guessed it! – a card game, which looks to be the true selling point if you ask me.
Travis Strikes Back: No More Heroes – Remember Travis Touchdown? Cause I sure do! When No More Heroes launched in 2008, it came at a time when M-Rated games were severely lacking on the Nintendo Wii. While the footage shown revealed no gameplay, I cannot think of a better way to celebrate Travis Touchdown's 10th Anniversary by bringing him back to the platform where it all started. Expect plenty of Suda51's signature brand of madness when Travis Strikes Back launches in 2018.
Nintendo sure is doing its best to show that it's latest console is more than just a place for 1st-Party titles. The future definitely looks bright for the Nintendo Switch and I cannot wait to get my hands on some of these titles – and then take them on the go!
For complete details on the Nintendo Switch Nindies Summer Showcase, click on the video below for all the indie goodness.