In a blog post on the Playstation Blog by Mary Yee, Playstation has announced that 15 hit PS4 games will be getting the familiar "hits" treatment starting June 28th. The games will come in a red case as opposed to the PS4's original blue case, and will cost $19.99 per game. The blog post reads:
If you missed out on some great PlayStation 4 games that came out a few years ago, we have exciting news! We're introducing PlayStation Hits, a selection of incredible PS4 games that are easy on the wallet. From award winning epics to family friendly favorites, PlayStation Hits offers an awesome lineup of games for $19.99 USD (MSRP) each on PlayStation Store and select retailers across the U.S. In Canada, PlayStation Hits games will range in price, starting at $19.99 CAD (MSRP) each at participating retailers and PS Store.

At retailers, PlayStation Hits games will come in red packaging instead of our usual blue, and at PS Store the games will have red banners that'll make it easy for you to identify which games are part of the Hits lineup.

Below are the list of games that will become available in this new program starting June 28 in the U.S. In Canada select titles will be available – check out the Canadian PlayStation Hits page for details.
The full list of games is as follows:
Bloodborne
Driveclub
InFamous Second Son
Killzone Shadow Fall
Little Big Planet 3
Ratchet and Clank
The Last of Us Remastered
Uncharted 4: A Thief's End
Battlefield 4
Doom
Project Cars
Street Fighter V
Yakuza 0
Yakuza Kiwami
Metal Gear Solid V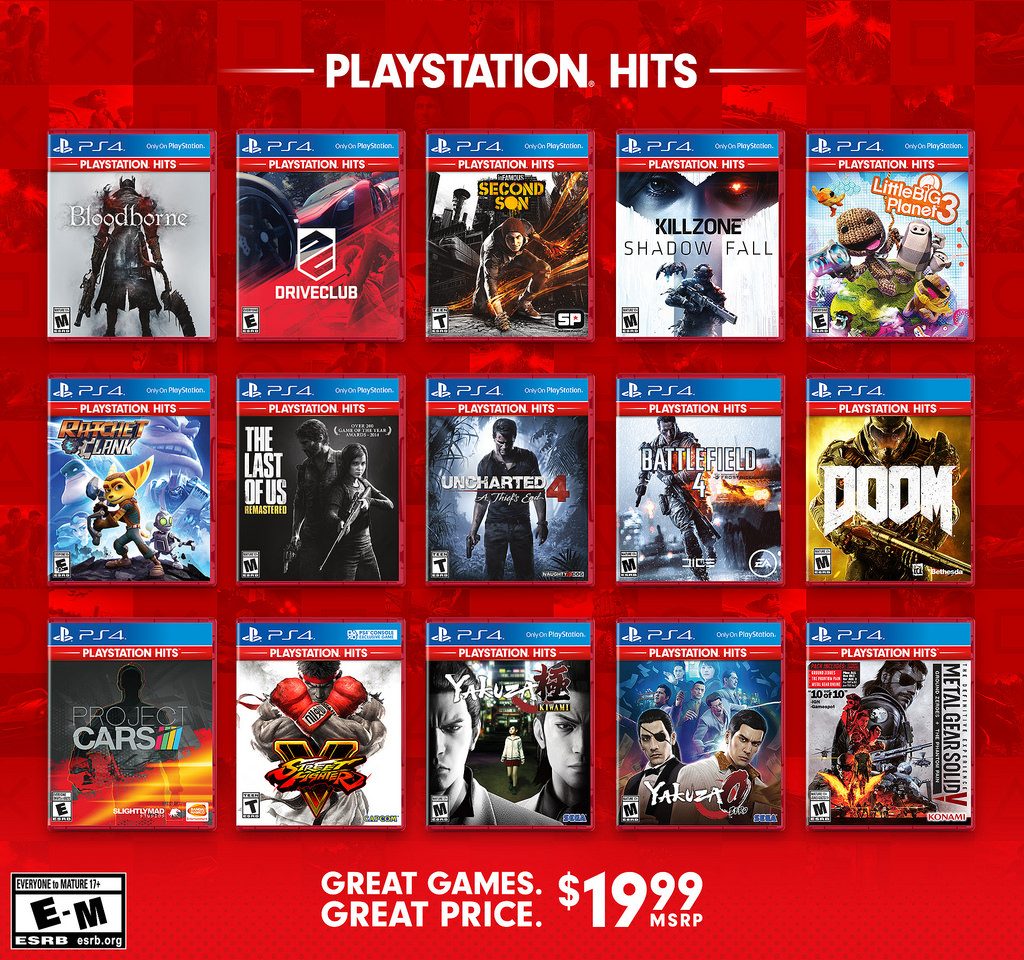 More games are going to be following, but so far this list is pretty great for those who are looking to play some titles they missed or those who have just purchased their PS4. What do you think of the list? What games would you like to see added?