IT'S AN ALIEN INVASION!!…and they are stealing our…wifi? Thank the caffeine gods that James Deighan of Mega Cat Studios is here to grind the beans out of those extra-terrestrial asshats. Nintendo did a Nintendo and gave us all of 36 hours to prepare our bodies for a Pokemon Direct. The Pokemon Direct's eight blissful minutes of poke-goodness was so spectacular, that it really is the only news worth reporting on this week. And finally, The Hype Zone confirms that some media outlets really should stay in their lane. This is Nintendo Duel Screens: Episode 88!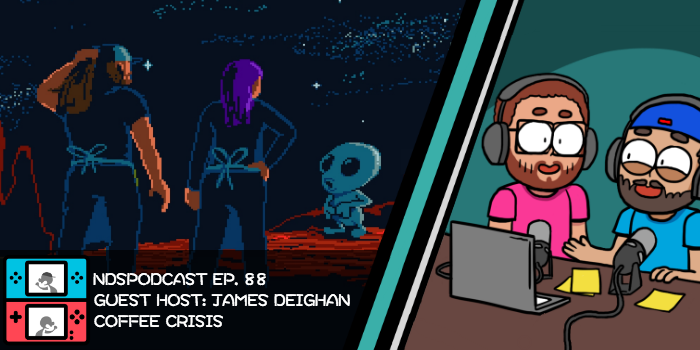 Nintendo Duel Screens is officially on Patreon!  With as little as $1, you can get access to NDSPodcast's Super Secret Discord Channel and chat it up other fans as well the hosts…and perhaps with some of the best developers in the gaming industry. What are you waiting for?!
Subscribe/Review Nintendo Duel Screens in Apple Podcast, Google Play Music or RSS.
Come watch us stream on Twitch!
Be sure to follow the show on Twitter and join the NDSPodcast Facebook Group.
You can also email NDSPodcast here. Questions/Feedback are addressed weekly so don't be shy and share your Nintendo stories!
This week's episode can also be downloaded for your listening pleasure – Nintendo Duel Screens 88 – Java Jabronis
Proven Gamer is now a proud partner of Humble Bundle! Visit the link HERE to help the cause!
Follow Sour Note Productions here.