On this weeks show it is an all out invasion! We have taken PAX East 2019 by STORM! This episode strays from the normal type of show. There will be no Hype Zone, Retro Game Club, or any of the normal segments. Instead what you will have is OVER AN HOUR of interviews with 21 guests! This was an absolute blast for us to do and we hope you enjoy it. Obviously we are in a convention center so please excuse some of the hype going on in the background.
Here is a list of the interviews on this episode, in no particular order:
Super Meat Boy Forever
Cyber Shadow
Mistover
Speed Brawl
Collapsus
Cardpocalypse
Wrath: Aeon of Ruin
Star Renegade
Freedom Finger
Hell is Other Demons
Gravity Heroes
Doublekick Heroes
Cosmo's Quickstop
Bloodroots
Killer Queen Black
Magequit
Mayhem in Single Valley
Panzer Paladin
Trechery in Beatdown City
World of Horror
and Syndey Hunter and the Curse of the Mayan
In a couple of days we will follow up with Part II of our coverage which will include day 4's interviews, plus our PAX Awards!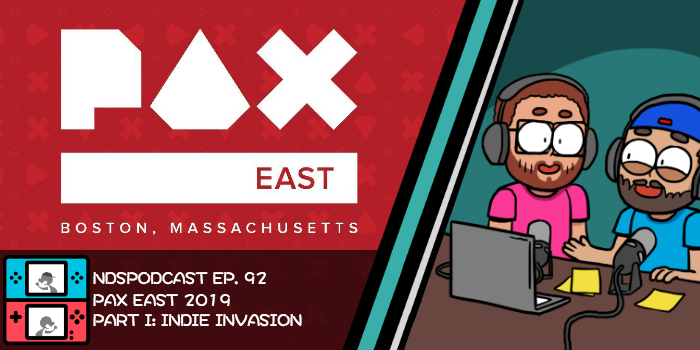 Nintendo Duel Screens is officially on Patreon!  With as little as $1, you can get access to NDSPodcast's Super Secret Discord Channel and chat it up other fans as well the hosts…and perhaps with some of the best developers in the gaming industry. What are you waiting for?!
Subscribe/Review Nintendo Duel Screens in Apple Podcast, Google Play Music or RSS.
Come watch us stream on Twitch!
Be sure to follow the show on Twitter and join the NDSPodcast Facebook Group.
You can also email NDSPodcast here. Questions/Feedback are addressed weekly so don't be shy and share your Nintendo stories!
This week's episode can also be downloaded for your listening pleasure – Nintendo Duel Screens 92 – PAX East Indie Invasion – Part I
Proven Gamer is now a proud partner of Humble Bundle! Visit the link HERE to help the cause!
Follow Sour Note Productions here.