The Plants vs Zombies: GW2 Beta went live this weekend, and Tricky and myself had the chance to engage in it's addicting, coop based, tower defense meets third person shooter multiplayer that fans enjoyed about the first one.  As soon as the opening cinematic starts rolling to the tune of Kenny Loggins' "Danger Zone", you are immediately immersed in the world of Plants vs Zombies, as the cinematic showcases some of the games new characters that are available such as Rose, a magic wielder capable of hilariously turning her foes into goats, and Super Brainz, a close quarters, high flying Bizarro of the PVZ universe, as well as many more.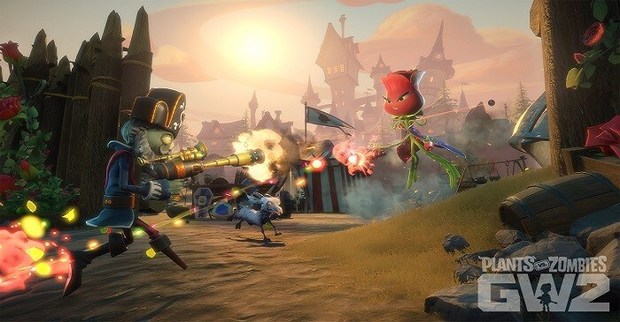 Once in the beta,  you will see vast improvements to the interface, for the standard menus have now been replaced with a "Backyard Battleground" where players spawn at their home base depending on which side they chose (plants or zombies, obviously) and can freely explore the battleground if they so choose even when they are not engaged in combat.  While at home base, players can choose which side they want to fight on, customize/choose their characters, purchase "stickers" which can be used to aid in combat,  engage in PVP multiplayer, challenge themselves to complete quest provided via message board, as well as many other features not provided in the Beta.
The battleground is separated into three layers; plants on one side, zombies on the other, and the actual battlefield in the middle.  After prepping for battle, players can then raise the flag in the middle of the field, then they are tasked with defending it from hordes of the opposing team.
One of the biggest complaints about the first installment is the lack of offline play.  Popcap is fixing this problem. Players can now take the fight offline, with the ability to play split screen coop!  I personally enjoyed the beta, and believe that this installment will do the series justice. With so many options available in this beta, the games humorous dialogue, colorful world and addicting gameplay, I was hooked as soon as I launched it.   Whether you are team plant or team zombie, players will have to wait and see if the game holds up to the hype as they hash out their differences when it releases later this year.