This February PlayStation is going galactic with it's two free titles coming to the PlayStation 4 and available for PS Plus members. First, PS Plus members will be treated to Helldivers; a top down, chaotic twin stick shooter heavily focused on teamwork, where players will be face off against invading alien forces. PS Plus members will also dig into Nom Nom Galaxy, where players take the role as a new Astroworker for SoupCo; combining platforming, mining, base construction, tower defense, and of course, making soup.

PS3 members will be treated with Helldivers as well, along with Codemaster's racer Grid Autosport, and the fast-paced anime fighter Persona 4 Arena Ultimax.
Vita owners will also get Helldivers along with the classic platforming puzzler Lemmings Touch.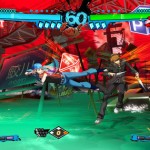 Meanwhile, Xbox Gold members will receive Styx: Master of Shadows, a stealth game with RPG elements, and Hand of Fate, a roguelike/ action-RPG/deck builder hybrid on the XBOX One, as well as the intense, cover-based shooter Gears of War 2 and the side scrolling, arcade style, cooperative beat 'em up Sacred Citadel on the Xbox 360.