Perfectly ParaNormal's darkly comic adventure Manual Samuel will hit PlayStation 4 on October 11th and PC and Xbox One on the 14th  of October, publisher Curve Digital has revealed today.
The game challenges players to guide the titular hero through the worst 24 hours of his life, doing everything – everything – manually.
This extraordinary day begins with Samuel being knocked over and killed, and all being well ends with him living happily ever after, in a genuinely laugh-out-loud tale of love, redemption and feces.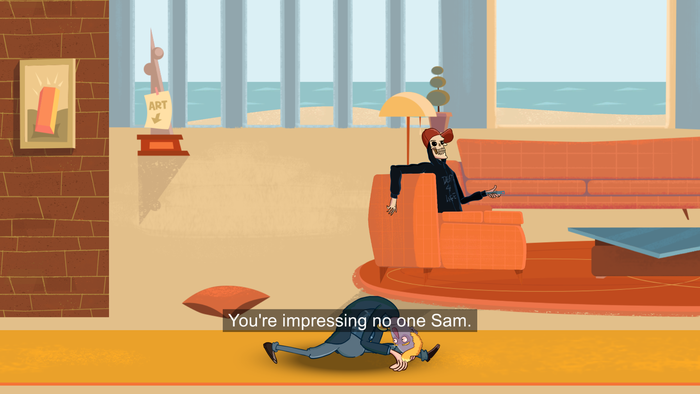 Billed as a 'dexterity adventure', Manual Samuel makes everyday situations increasingly slapstick as simple tasks such as getting dressed become hilarious set pieces where forgetting to breathe can mean the difference between successfully getting your pants on. As the day progresses, Sam must keep his girlfriend and his boss happy – all whilst keeping Death happy.
Players control every aspect of Samuel. Right and left stick to walk, sure, but don't forget to press to breathe in, press to breath out, press to blink, hit the triggers to walk – left foot, right foot, left foot, breathe in, right foot, blink, breath out, right foot fall over. Get up.
Samuel's manual affliction paves the way for some truly hysterical moments. From taking a leak to driving a car, the game makes a marvel of the mundane. And as the game progresses, Samuel's adventures become even more surreal, making this one of the most spectacularly silly games in a long, long time.