Wow, what can I say about Snake Pass. Snake Pass is a retro-inspired platformer, where players slither, curl and climb their way through increasingly challenging worlds filled with intricate obstacles and fiendishly mind-bending challenges.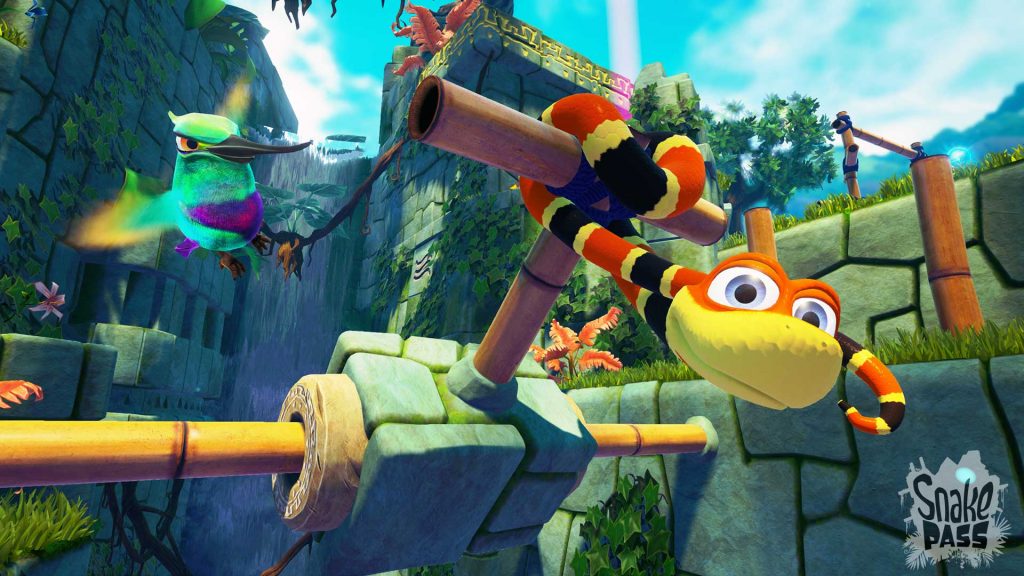 When a mysterious intruder threatens the tranquillity of their home, it's up to Noodle the Snake and Doodle the Hummingbird to embark on a daring journey to save the day.  Controlling this dynamic duo, you must 'think like a snake' and slither, curl and climb your way through 15 levels across 4 increasingly challenging themed worlds.  Snake Pass is a unique take on the platforming genre that is intuitive and fun to learn, but will gradually test your snake charming skills to the limit.
Yea thats the basics. Well it's the total package.  With no dedicated jump button (cause snakes don't jump), you must use R2 to move forward while moving back and left and right with the left stick in a "S" motion to build up speed. It's easy enough to do, but frustrating while trying to line up your movement towards a bamboo stick that you must climb to acquire three gems to open the final gate, one of the many ethereal wisps placed, or one of the 5 coins hidden in the level.  While finding anything other than the three gems is not required to pass the level, part of the fun of Snake Pass is moving around to find these collectables, and that is where it fell short for me.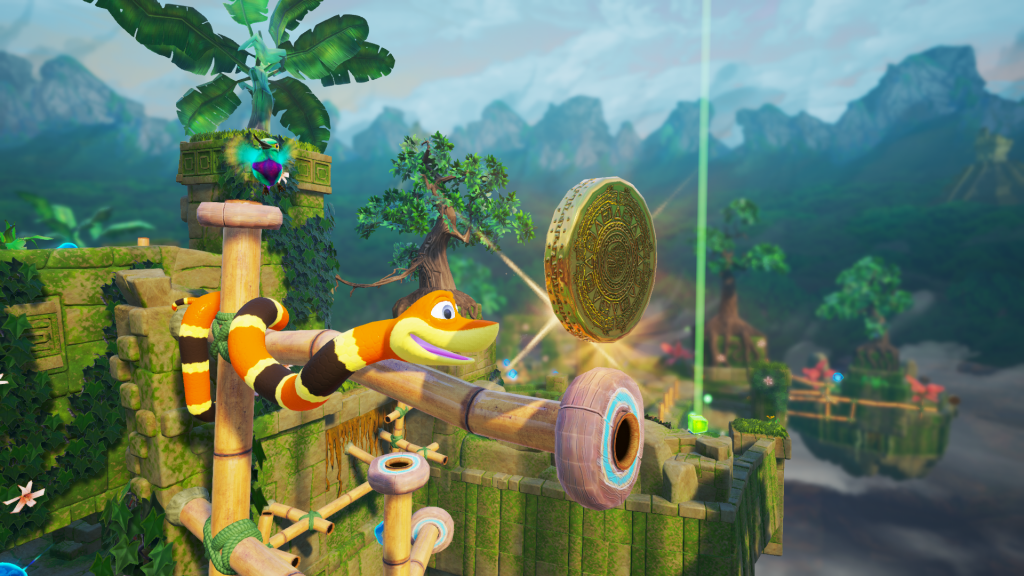 Climbing and moving around is not difficult but can be very frustrating as the camera is not always placed in a way to accurately see what you are trying to grab.  You can move the camera around with the right stick, but trying to do that all while trying to climb a stick holding R2 to move forward, holding X to pick your head up, L2 to hold tightly, the left stick to move Noodle's head in the direction you need to it go, and the right stick to move the camera to just the right angle, only to find out that the right angle is no viewable because something is in the way, is only frustrating.  One good thing I can say about Snake Pass is there is no time limit associated with the levels so you can fail many times, with no fear of losing out on progress other than you having to collect what you picked up after your last save.
Every level is built with Noodle unique style of movement in mind and the enchanting environments, is the only reason to play this 3D platformer, as the story is very much lacking.  As of the writing of this review, I have not beaten the game but have made it through a majority of the levels.
At the price point of $20, it will be available on Steam, X-Box One, Playstation 4, and Nintendo Switch.  While its not a must buy, I would say its a game that is unique enough to at least try.  Sumo Digital, who is the developer behind Little Big Planet 3, hired Seb Liese to make Snake Pass after winning of Sumo Digital's inaugural Game Jam, Snake Pass was created as a love letter to both the favourite games of his youth and his childhood pet snake.  Sam was also very good at making community levels in LBP3, but sadly it seems he should have spent more time making these 15 levels!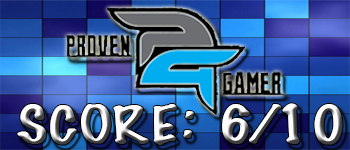 Check out the reveal trailer below

editors note:
a PS4 review code was supplied by developer, Sumo Digital, for the sole purpose of review