A hidden, dark, and creepy challenge that Switches expectations of what a puzzle game is.
Tucked into a small corner of PAX EAST was a small, non-decorated booth. Standing there was a young man, and a cosplayer dressed in a Gothic themed dress. It was clear the game that I would be demoing would be dark, twisted, and deadly. This is Kaet Must Die from Michigan-based Strength In Numbers. It seemed rather strange that a game such as this would be tucked inside of a corner booth, wedged between the wall, the Indie Megabooth, and Devolver Digital. However, this was a gaming convention, and I came here to play games. With a brief introduction, I sat down and began my demo. 
Kaet Must Die puts you in the role of a young woman named Kaet, who awakens in a filthy sewer, beneath an unknown city. It is apparent that somehow, she has slipped into an alternate reality, filled with evil and darkness. She has no means of self-defense and no navigation tools. To escape, she must secure magical skulls and place them within the shrine, located at the center of the level. The skulls are scattered throughout the sewer. With a multitude of threats lurking in the dimly lit corners, Kaet must be vigilant, observant, and stealthy in order to survive.
The Switch Factor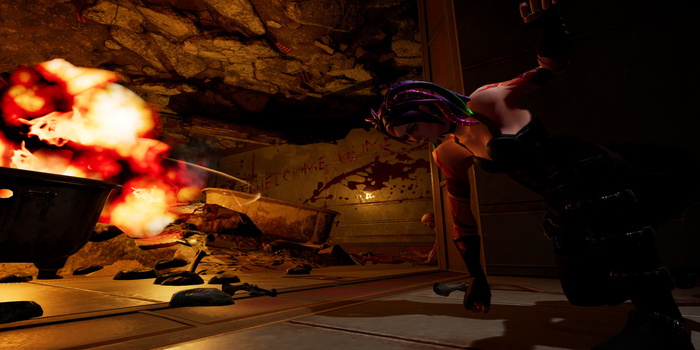 Kaet Must Die was played on a Nintendo Switch, a surprise considering the nature of the game. Overall, the game ran really well, but smooth gameplay and crisp visuals could not help me stave off death. I played the game with a complete open mind, with no prior knowledge of what I was supposed to do. I only knew that I had to navigate the sewer and locate an exit. Within moments, I turned a corner, a zombie grabbed me, and it was game over. From this point on, I knew that the game would be a trying tale of trial-and-error. I navigated further in the sewer, recovering at least one skull and voiding the zombies.
In Kaet Must Die, the zombies look more like mannequins, but with green eyes. Even getting remotely close to them is similar to setting off a landmine. I managed to secure one skull but realized there were multiple skulls I need to secure. As I attempted to navigate, robed trolls lurked in the shadows, moving around discreetly without a pattern. Eventually, they found me, and electrocuted Kaet, ending my efforts. Something inside still wanted to continue my trials, however.
Try, try again…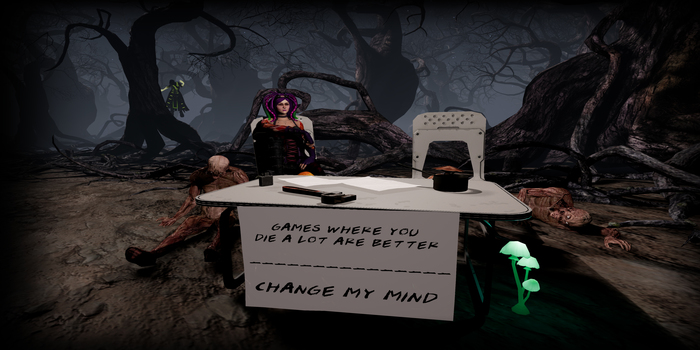 On my third try, I maintained more care, and was also given the hint of using glowing mushrooms to send distracting flares to the robed trolls. It worked, and allowed me to stay alive for a little longer. Throughout the sewer, garbage and dim light maintained an atmosphere of constant alert. I looked closely, securing another skull, but alas, I met my demise once again. A troll snuck up behind me and electrocuted me. Being that I died three times, I determined that my time with the demo was over.
Kaet Must Die feels like an acquired taste. I talked to one of the developers at the booth, and the game was touted as a painful practice of trial and error. Should players wish to complete Kaet Must Die, they will have to die a lot. I suppose that is part of the fun, if you like that sort of torture. During my play-through, there was no means of self-defense and no navigation tools. My mental deduction skills were put to the test right from the jump. With that being said,  learning where the skulls are and making it to the end of the level will take repeat game-play. On one hand, this is reminiscent of classic games, most particular the side-scrolling action-platformers of the 1990's, like Mega Man. Of course, to beat those games, players had to fight, die, and repeat until they figured out how to beat the game. But Kaet must Die touts itself as one of the most hardcore horror puzzle games ever made. In the short time that I played. it was unique and different, and there are those that will probably enjoy the brutal difficulty and lack of guidance. However, for general game players, there may be better, more refined horror experiences elsewhere.
The Bitter End…
Kaet Must Die looks and feels like a game better suited for a twitch streamer. I can imagine an audience closely following a streamer and seeing just how far they'll go in a competitive format. For video game players, Kaet Must Die is certainly playable but perhaps not very accessible. I would like to see some means of defense, as well as some form of guidance to the different skulls. It doesn't have to hold your hand , but it doesn't have to leave you completely naked to danger. The character sounds like an amazing super natural being. Perhaps a limited use of her pwoers will work to make the game more accessible. Kaet Must Die is a work-in-progress, and I am hopeful it can evolve into something better.
Kaet Must Die is currently on Steam and will come to Nintendo Switch in Q2 2018.