A Splash of Brilliance
Equal parts exhilarating and frustrating, INK is a puzzle platformer with a twist that has you coming back for more and more. You will run, jump and wall slide your way to victory & and feel that familiar rush of ultimate satisfaction – or the gimmick of INK will run its course and you will be looking to get your puzzle platforming fix elsewhere.
A Shot in the Dark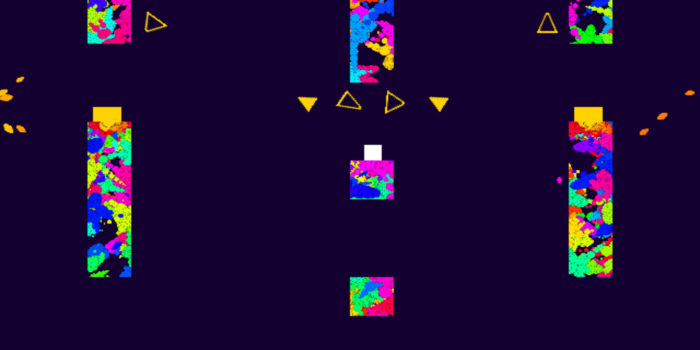 INK has you assuming the role of an unassuming white square that resembles a tofu block. You sit there in a completely dark space, with no light to guide you. Platforms lay in complete darkness waiting for you to explore them. You take your first leap into the emptiness only to splat against a wall once invisible to you and splash ink all over it. You now see the side and part of the corner of what appears to be the top of a platform. Everything you touch, gets splashed with bright multi-colored ink, revealing the platforms in front of you and allowing you to reach the end goal of the level. While trying to figure out where the platforms lie can be fun, it is often times a forced trial and error. This is ultimately more frustrating and less satisfying than you would hope, especially with a platformer with a nice balance of the two like Celeste still fresh on the mind.
Friend of Foe?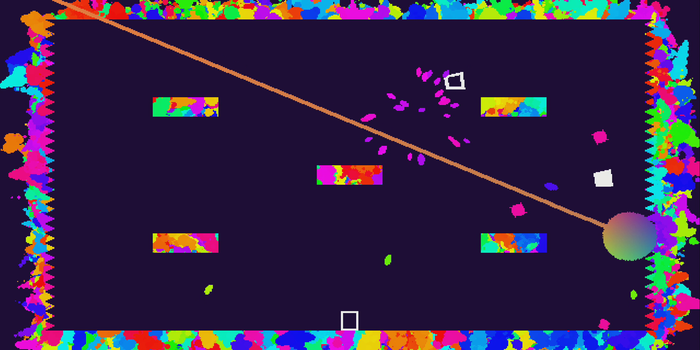 Just as you get used to the game's floaty platforming controls, they throw enemies at you. At first, you don't really know they are enemies, so you might go and touch them, and if you do, you die and go back to the beginning of the level to start over. Your next thought is to avoid them – but once you do that you realize you cannot go through the gate at the end of the level. It requires you to kill all of the enemies. You soon figure out that to kill them you must jump on top of them. This sounds simple enough, but imprecise hit detection has you landing on what you believe is the top, but is too much of the corner and you will die. You can string a few kills together and propel yourself forward, only to be stopped dead in your tracks by an invisible wall you have not splashed yet. Luckily when you do die, only enemies respawn, the platforms do not go back into darkness. When you do reach your end goal it is incredibly satisfying, especially when you reach a boss battle that really tests your skills. These battles are intense and brilliantly designed and had me wishing that the game was more of that and less guess-work platforming. Speaking of intense, you can play local co-op with a friend using split joycon. Seeing how you stack up against a friend is fun, but playing with split joycon, I can tell you first hand, is NOT recommended. If you have a pro controller you might want to use that instead.
Pleasure for Eyes and Ears
One thing that is evident here is that a lot of care went into the vibrancy of the visuals and the beautiful soundtrack. Each splash of color is a visual treat and bouncing around to the catchy beats ties everything together quite nicely. You almost catch yourself platforming rhythmically, even though the game is not designed to be played that way.  Once you do get into a nice groove, especially when trying to do some speed runs, the presentation enhances the experience tenfold. It is a rarity these days to find a game that blends ambiance in such a cohesive way, but INK does it flawlessly.
Going in Blind.
Ultimately, INK has a bunch really great ideas. Clever level design, gorgeous visuals, and intense boss battles will have you coming back for more, but floaty controls and forced trial and error may have you looking to more polished experiences to scratch that puzzle platforming itch..  With 75 levels for you to explore, you will have plenty to enjoy.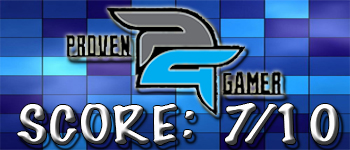 Review code has been provided by Digerati.