We are super excited to have Mikael Forslind and Kevin Andersson of Elden Pixels, developers of Alwa's Awakening. Alwa's Awakening just released on Switch and the boys are gushing with nostalgic love. The crew talks about the 400lbs gorilla…erm…turtle dinosaur in the room, Nintendo tossing the ban hammer around all willy nilly and of course they play some Retro Game Club.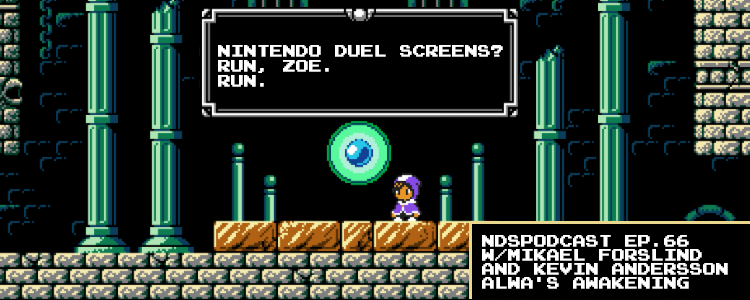 Follow Elden Pixels
Follow Kevin
Follow Mikael
Nintendo Duel Screens is officially on Patreon!  With as little as $1, you can get access to NDSPodcast's Super Secret Discord Channel and chat it up other fans as well the hosts…and perhaps with some of the best developers in the gaming industry. What are you waiting for?!
Subscribe/Review Nintendo Duel Screens in Apple Podcast, Google Play Music or RSS.
Be sure to follow the show on Twitter and join the NDSPodcast Facebook Group.
You can also email NDSPodcast here. Questions/Feedback are addressed weekly so don't be shy and share your Nintendo stories!
This week's episode can also be downloaded for your listening pleasure – Nintendo Duel Screens 66 – Lewd Awakening
Proven Gamer is now a proud partner of Humble Bundle! Visit the link HERE to help the cause!
Follow Sour Note Productions here.