Telltale Games has had quite the busy year so far—they finished up their newest episodic story with Tales From The Borderlands while the upcoming season finale to Game of Thrones:A Telltale Games Series is coming this November. It seems that the team at Telltale is not done yet this year as we got the first of five episodes for Minecraft: Story Mode, which is their take on Mojang's widely known and popular creative game. Unlike the previous games they have put out—which had characters, stories, and a world to use for source material—with Minecraft there is a free range to create a unique story with original characters we have never seen before.
Even so, Telltale definitely put themselves in a tough position when they picked up Minecraft to make an episodic game for. It's tough to imagine how a game where you basically explore a world and build whatever you want to would transition into a five-part episodic story driven game where there aren't any characters or places you can reference.
I will say that Minecraft: Story Mode does a good job with what it was trying to accomplish, the game features the iconic crafting table which allowed you to create items to help progress through the story, and while it wasn't at the depth of crafting Minecraft itself has it was still nice to see it put in the game.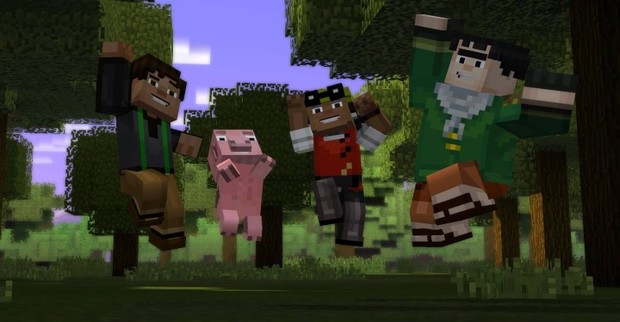 Minecraft: Story Mode features Telltale's bread and butter point and click gameplay while also including a good amount of quick time events and combat. The developer's dialog and story options return as well, though this time around they are a bit more lighthearted. Minecraft: Story Mode is child friendly and without many decisions that might have you questioning yourself or getting too emotionally invested. The game's simplistic gameplay allows anyone to jump in and enjoy the story and have fun which, at it's core, is what Minecraft is about.
With that being said in Minecraft: Story Mode you take on the role of Jesse who, joined by with his friends and pet pig named Rueben, is trying to win the Endercon building competition with the hopes of meeting Gabriel the Warrior, a member of "The Order of the Stone." Gabriel and his allies are the group of legendary heroes that defeated the Ender Dragon. Things go south and our ragtag group of unlikely heroes are on the quest of a lifetime to find the remaining members of The Order of the Stone so they can help save the world.
Minecraft: Story Mode also boasts a wealth of talented voice acting. If you picked a male character for Jesse the game's lead voice actor is the hilarious Patton Oswalt while Catherine Taber voices the female version. With the supporting casting of comedian and actor Brian Posehn as Axel, I found myself enjoying any dialog sequences involving Patton and Brian. And just like in previous TT games there are, of course, various story related choices that can result in minor changes to the game's outcome. From getting black eye to losing your stone sword and deciding who you team up with going into Episode 2, your choices matter. But, I'll shy away from any details as to avoid spoilers for those of you who have yet to play the game yet.