Attention Rocket League fans! The content keeps on coming in an ever popular video game series. Psyonix just announce a special new Batmobile DLC for $1.99.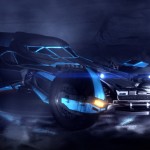 The Batman v Superman: Dawn of Justice Car Pack will promote the upcoming superhero movie by placing the new Batmobile in your hands. This sleek new car vehicle looks impressive and will probably have a kick to it when racing for the goal.
The DLC will also come with three exclusive antenna flags of the three film superheroes: Wonder Woman, Batman, and Superman. While it may not be official, the trailer for this Batman DLC appear to reveal a Rocket League field in the heart of Gotham City. Time will tell as we gear up our Rocket League skills to merit controlling The Dark Knight's ride.
The Batmobile DLC will be available on March 8th, 2016 while Batman v Superman: Dawn of Justice will be in theaters on March 25, 2016.
I look forward to seeing multiple Batmobiles on the Rocket League field.