Gearbox Software has come a long way over the past years. The company made a name for itself with PC mods and the company hit it big the Borderlands series. Does the company still have the ability to create a new game title? We find out with my review of Gearbox's new title, Battleborn?
The plot is set a million years in the future where there is only one star left in the universe and every race battles for supremacy of the last solar system. A powerful villain is planning something with the last star and it is up to the Battleborn crew to make sure the remaining star and worlds are safe. Gearbox kept the same quirky humor and character design that made the Borderland series great, but the story may not be the most interesting reason for you to buy the game. There are some great cut scenes and humor between characters, but they are limited and left me wanting more.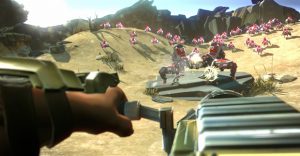 The game contains 25 different playable character that can be unlocked through player progression. Each character contains different attacks, customizable abilities, and styles help players decide their gameplay strategies. Every character has different strengths and weakness that you will have to learn if you want to complete a game match. Gamers may not enjoy playing every character because each character has a very radical form of gameplay. One gunner character has more agro ability while one elf archer has more long distant attacking gameplay. Personally, I only enjoyed the sword wielding vampire who gained health as he unleashed swift melee attacks.
Battleborn is a great game for those dedicated players who want to spend several hours learning how to play and utilize every character. For the casual gamer, this concept may be frustrating because you will die often in the game. There is a huge learning curve with all the characters and unlocking everyone will take a long time. Players may give up before getting every character in the game.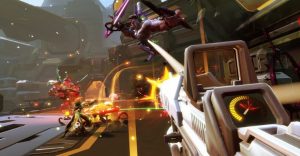 The missions work well when engaging in online coop, but only work if you select your desired character(s) before someone else does. The multiplayer experience can be rewarding when you do select your character, set your characters skills and abilities, and play with others.
The multiplayer gameplay focuses on League of Legends or Heroes of the Storm objectives based matches which is far better than a simple kill count match. While moving away from the kill count is fun, one multiplayer game can take a long time. One match can take up to 35 minutes to complete. This may sound like fun, but the endless fight between the same five online players on line can drag on and wind up being frustrating.
While Battleborn has a decent story and fun cut scenes, the long progression and multiplayer games turn you away. If you're a League of Legends fan, Battleborn could be up your alley. I give Battleborn a 6 out of 10.