Overcooked is brought to you by Ghost Town Games and it is a very easy game to pick up, there are only 4 different action buttons that you use throughout the entire game. Walk, grab/put down, chop/wash, and boost. Please note that the first two levels are really easy with 2 or more players, then the game takes a crazy turn and gets more difficult. as it adds level hazards, like moving trucks or ice or even Rats! All easy to adapt to if you have the chops in the kitchen! There's also a "taunt" button. I didn't see how it helped or didn't help any given situation, it was just really funny to watch them spout "curses" in a kid friendly Gordon Ramsey style.
The whole premise of the game is to sharpen your chops to appease the beast. Whom is destroying the world from the time line you come from. Yes, you start off not being able to satisfy the beast (a spaghetti monster) then have to travel through time to become better versed in the ways of the kitchen in order to eventually quell the spaghetti monster. After you travel through time and start you food culinary quest you are greeted by a top down over world style map in which you use to go level to level, or kitchen to kitchen. You travel via a food truck/bus and it's super reminiscent to traversing the overworked in Final Fantasy VII.
Going back to how difficult the game is, this all changes after some time of play and practice and upping the communication between you and the other players, treat it like an actual kitchen, call things out and make sure everyone has a role and can keep up with it. One player cuts, one player cooks, and so on with delivering food and washing dishes. Each activity that's fine takes a set amount of time depending on how many cooks are doing the exact same activity. Example: If you're cutting mushrooms by yourself then it would take 5 seconds, if someone was on the other side of the counter cutting the same mushroom it would take 2.5 seconds. This can be utilized very effectively if you have a season veteran running everything else like plating dishes or washing said dishes.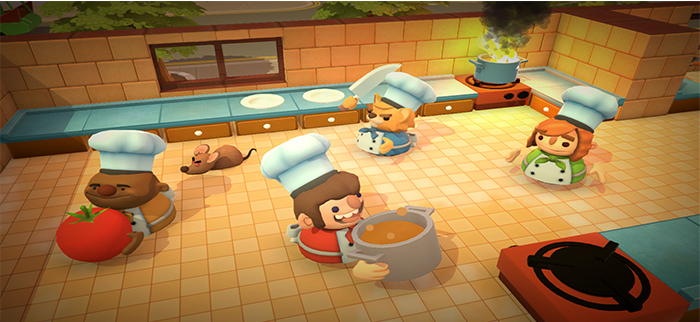 The game does a really good job of bringing back couch co op. So much so that you can play two players with one controller. Let me explain, earlier I mentioned there being only 4 actions you can perform in the game. If you pick two players but only have one controller it will take the usual control scheme and split it right down the middle. The two sticks being movement for two players and the bumper buttons being the action buttons. I honestly really enjoy this. I've missed couch co op for the longest time and I'm so happy to see developers taking the extra mile and making a two player game available to play with one controller. I know wii games will let you pass the controller, but this game is co op! Which means two players playing at the same time.
The versus mode is unlike anything I've ever played in the best of ways, you control two characters in one kitchen. You can chop thing while your other hand is moving the character and cooking and delivering the food! It's wild crazy and fun! This game is a must play for people who want something new to throw into the mix of multiplayer game nights!
The trophies are all very easy to obtain not counting the earn all three stars in every kitchen trophy, as some of the kitchens are very difficult. I cannot see how anyone can make it very far in the game with only one player.
All in all it is a very solid game, where team work and communication is key. There are very few bad things I can say about the game. The only problem I had with the game was how precise I have to be with where I put my cut veggies or other such items I have to pick up then put down. However after sometime that got easier with practice. The levels change with every new area you unlock so things DO NOT become stale. Pick up this game with a good partner or team and you won't be putting it down until you save the onion kingdom!