Rocket League is the best multiplayer game – either past or present.
I said it; you read it. I'm over here dropping rhymes like pouring pancake mix in a skillet.
Before I go any further, I understand that this debate is subjective. To me, Rocket League wins the MVP award for best multiplayer game. You might not agree. Chances are, if you survey 10 people, you'll get at least two different answers. The chances are low that you'll hear the same answer 10 times. If you survey 100 people, Family Feud style, I'm sure that you'll hear, among others, Call of Duty, Super Smash Bros., and Mario Kart.
Rocket League, developed by the lovely folks at Psyonix, is a frenetic soccer game built around a simple concept: Sports games can be as fun as a bounce house in zero gravity. While many sports games attempt to ape the realism of their inspirations, Rocket League brings the thunder with over-the-top action that never leaves overdrive.
Rocket League owes much of its success, at least initially, to PlayStation Plus. Upon release, Rocket League joined the PlayStation Network's Instant Game collection, which made it free to all PS Plus subscribers. With a firm grasp of simple economics, and the ability to tie a pair shoes, anyone can surmise that a free game is more accessible than a $20 game. If a free game turns out to be bad, I haven't wasted any money to play it, so I am no worse off. I like to think practically.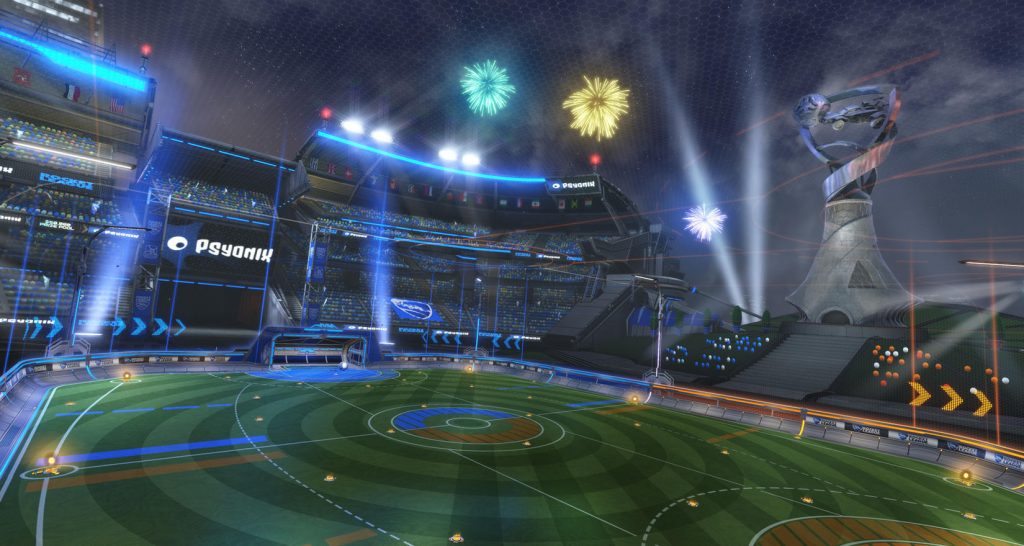 While PS Plus helped promote Rocket League, Psyonix's arcade soccer game – where the stars are cars – is amazingly fun, and Psyonix has poured gasoline on the starting flame to create a firestorm of hotly contested online and offline matches – including competitive seasons and championship tourneys. This summer, NBC Sports will air a Rocket League tournament. Have I mentioned that Rocket League is a big deal? Rocket League has also sponsored at least two World Wrestling Entertainment special events.
Psyonix has supported Rocket League with truckloads of downloadable content – much of which has been delivered in free updates. Along with new arenas, Aquadome is the greatest of the great, these free updates have included new games modes ranging from ice hockey to basketball. Instead of releasing a sequel, Psyonix has continued to support Rocket League with new content, and players have continued to maintain – and grow – a thriving online community. I can jump into a Rocket League online game in less than 10 seconds. How many games can say that after nearly two years? Many gamers migrate to new online communities once a sequel supersedes an older game; however, thanks to a ravenous and loyal community, as well as Psyonix's dedication and hard work, Rocket League continues to thrive.
Whether you play online or offline, Rocket League is incredibly fun.  The online infrastructure is stable and reliable — even on a decent web connection.  In other words, unless you're inactive, you rarely drop out of a game.  Local multiplayer has always been my preference, given the large amount of intolerable hyenas online; however, I enjoy playing online in Rocket League.
However you shake the snow globe, Rocket League scores high.  The action is fast, and given that standard games last five minutes, you can string together an impressive amount of games in one sitting.  It's easy to jump in and play, and you can always find an online game if local multiplayer isn't an option.  Even if Rocket League isn't your first option for multiplayer chaos, it has to be in the conversation for top of the crop.  If I'm handing out an MVP award, Rocket League races ahead of the competition and scores the win.