News, and subsequently news stories, can be very fluid. With all the hustle and bustle of everyday life, sometimes stories will slip through the cracks. Well, the Proven News Wrap-Up is here to fix all that! Below are what we have determined to be the top stories for the week of 5/4. Although they are numbered, they are not ranked in any particular order.
1) Cyberpunk 2077 at E3?
A quick rundown of all updates on CD Projekt Red's mysterious RPG Cyberpunk 2077. On January 10, 2013, the launch trailer for the game is revealed. At the end of the trailer, they make it very clear there is no release date on the game. The trailer goes as far as flat-out saying it's coming "When it's ready". After the trailer, there wasn't a peep about the game until, five years later, the game's Twitter account put out the following, one-word tweet:
*beep*

— Cyberpunk 2077 (@CyberpunkGame) January 10, 2018
Now, rumors are starting to swirl that gamers may be getting another look at the game at E3. CD Projekt Red is listed to be showcasing a new RPG for PlayStation 4, Xbox One, and PC While this is by no means confirmation that it is Cyberpunk, gamers can only hope they are about to get a new look at this long-awaited game.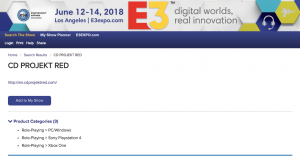 2) God of War Hits 3 Million Copies Sold in 3 Days
What a ride it has been for Sony Santa Monica and the God of War team. After numerous perfect scores from the media and similar reactions from fans, Sony confirmed that the numbers are backing everything up. God of War has become the fastest selling PlayStation 4 exclusive ever, selling more than 3.1 million copies in its first three days. After the five years of work that Cory Barlog and his team put into this game, it is great to see everything come together for an amazing pay-off on all fronts.
3) New Games Coming to Xbox Games Pass
Xbox Games Pass is still in its early stages. One thing that was always going to be important for the success of the program was the library of games available to the user base. Earlier this week, Xbox announced the list of new games coming this month. Sticking to the promise, Microsoft exclusive State of Decay 2 will be available via Games Pass the day of its release on May 22. Below are some of the other games coming this month.
Laser League
Pro Evolution Soccer 2018 
Overcooked
The Escapists
Homefront: The Revolution
Unmechanical: Extended
Sonic & Knuckles
4) Red Dead Redemption 2 Latest Trailer Fleshes Out the Story
Rockstar has shown off three trailers for Red Dead Redemption 2 and each time, the gaming world seems to come to a halt to see what new nuggets they are going to see. The latest trailer for Red Dead Redemption 2 is no different.
The trailer focuses on setting up the world that gamers will be experiencing when RDR2 launches on October 26. Outlaw gangs are being hunted and taken out across the West. As the Van der Linde gang tries to outrun the law, tension among its members starts to cause friction and division amongst its members. The trailer does its job, setting up more of the story and the world that players will get to experience. However, with about five months until its release, the first true look at gameplay hasn't happened yet. Additionally, there still isn't much information on what RDR2's online component will look like. All of this is very likely coming, but boy does Rockstar know how to leave their fans wanting more.