When I think about endless runners on the App Store, I picture games in which I travel in one direction, avoiding obstacles and possibly picking up currency until I eventually meet my demise, and start over. That gameplay loop has always been enough for me. But Ridiculous Fishing is much more than an endless runner. It's a welcome evolution that makes the genre feel fresh again.
A round of Ridiculous Fishing begins on your fisherman's boat, as you tap the sea to cast your line underwater. As your line continues deeper, you'll tilt the line to avoid fish. You continue this way until you collide with a fish, or reach your maximum line length. The fisherman then begins to retrieve the line as you now try to catch as many fish as possible on your way back up, making sure to avoid jellyfish. When you've finally returned to the surface, all of the fish you've caught along the way are flung high into the air, and you begin shooting them out of the sky, collecting their cash value as they explode. You know…normal fishing practices.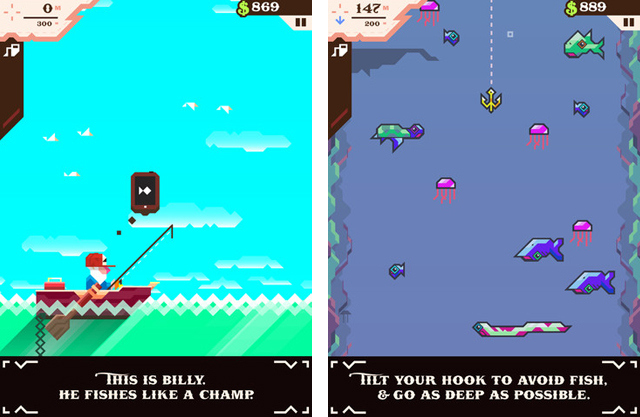 When you're not fishing, you can travel to the store to purchase upgrades. Upgrades range from longer fishing lines, new weapons to mix up your shooting strategies, items that give you multiple chances to collide with fish, or cosmetic clothing to pimp out your fisherman. There are plenty of upgrades to keep you busy through the game's four fishing areas. While the first three areas have a bottom that can be reached, the final area is never-ending. This gives the player an outlet to mindlessly pursue a new "best depth" after you've completely upgraded yourself.
Progressing to new areas is achieved by catching and killing new species of fish. The fish themselves are satisfyingly varied, both visually and in behavior. For example, the piranha will go out of its way to swim towards your line. This is a curse when you're trying to avoid fish, but can also be a blessing on your way up when you want as many fish as possible.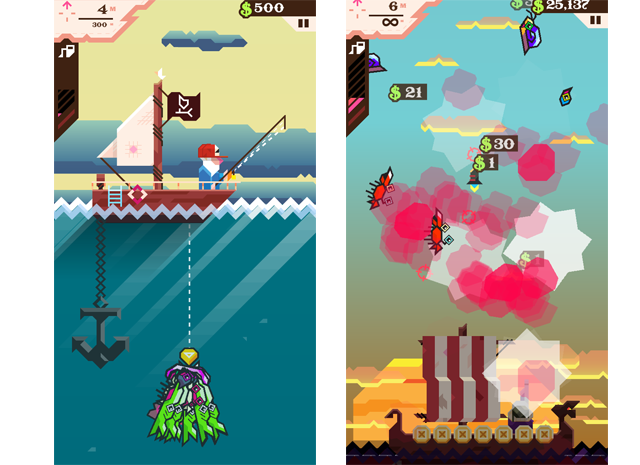 Finding new fish requires venturing further into the depths, for which you'll need a longer fishing line. To get a longer fishing line, you'll likely end up grinding a bit to earn cash. I never felt like I was gaining cash too slowly, though. In fact, I was often surprised how quickly I could upgrade myself after a few short sessions. It's a solid gameplay loop that will instantly sink its hooks in you. Sessions never lasted more than two or three minutes (at least in my case) so it's also easy to lose yourself in the game when you need to kill a little time during the day. The tilt controls are extremely sensitive, so you won't look like a complete fool jerking your device left and right in public.
The only aspect of Ridiculous Fishing I begin to take issue with is its price of $2.99. You'll mostly find endless runners on the App Store ranging from free to a dollar. Though Ridiculous Fishing easily outperforms most of the competition in originality and gameplay polish, three dollars is still a lot to ask for a distraction-centric iOS game. The best argument that I can make for its price is that Ridiculous Fishing contains absolutely no micro-transactions. No shortcuts to better equipment, no buying your way through the game. When you buy the game, you get everything it has to offer. This is a refreshing return to normalcy that you don't see too much of nowadays.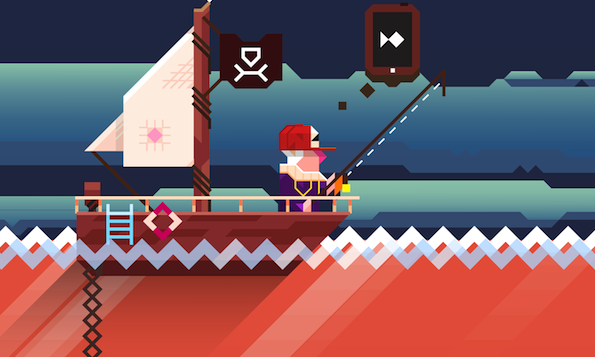 Ridiculous Fishing is very self-aware in how ridiculous it is. Even more, it embraces it. Apart from the absurdity of brutally shooting fish out of the air, you can also yield a few quick chuckles from the in-game Twitter-esc feed "BYRDR". Here you'll find characters interacting with each other, cracking jokes at each other in a few words, complimenting my new fishing line, etc. It's a very small feature, but what makes me love it even more is that you can legitimately retweet these fake tweets on Twitter. It's just so dumb, and I love it.
That sentiment could accurately describe my thoughts on Ridiculous Fishing as a whole. It has a certain amount of polish in its varied mechanics that few games on the App Store possess. The amount of love Vlambeer has put into crafting Ridiculous Fishing is quickly apparent. And what has resulted is an excellent mix of popular mobile game genres that will likely take place as your go-to pick-up-and-play game for a while. I know it will be mine.