Having missed the mark on it's sales goal of 2 million copies at the end of the companies fiscal year, Capcom has stated that it's staple fighting game Street Fighter V has "maintained steady sales" but has yet to come close to it's predecessor in Street Fighter IV which sold 3.4 Million units in it's life span before ever even releasing Super or Ultra. Many say that this is due to Capcom's questionable marketing and a rush for the game to release with limited content such as the inability to access the store, challenges, and even the Cinematic Story Mode, which did not release until July of 2016, months after the games launch in February.
But due to it's lack luster sales, does this  truly show the success and potential of the game?  Evo 2016 (or Evolution Championship Series) is set for July 15-17 in Las Vegas, Nevada and features some of the best fighters in the world.  Fighters such as Daigo "The Beast" Umehara, Justin Wong, and Alex Valle have all stepped foot in the "ring" to compete in epic 1v1 Street Fighter bouts.  With their reputation proceeding them via online forums, YouTube, and especially Twitch, it's no surprise that they have been successful in promoting the king of 2D fighters the last few years, and have shown the world why Street Fighter is so beloved among it's fans.  With such inspiration, attendance at Evo 2016 is at an all time high!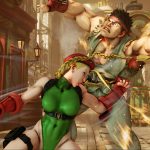 An Article per Shoryken.com, posted on Februrary 26, 2016 states:
"After just four days of registration, Street Fighter V broke the Evolution Championship Series' attendance record for one game. Now, four days later, it's surpassed another milestone.This morning, Evo organizer Joey "Mr. Wizard" Cuellar tweeted his surprise at the current numbers. While an exact figure wasn't mentioned, photographer Robert Paul asked if, perhaps, over 3,000 players have registered for Street Fighter V, to which Cuellar responded with an affirmative image. Before this, Ultra Street Fighter IV held the record for most participants  at 2,227 individual competitors. Street Fighter V appears to be a worthy successor to that legacy, with numbers impressive enough to warrant its appearance at the massive Mandalay Bay arena. Let's go."
Since then, the registration numbers for competitors for Street Fighter V alone has more than doubled!  Could this be from a die hard user fan base growing before our very eyes, or perhaps Street Fighter V is actually better than the reviews and sales give it credit to be?  Either way, it will be interested to see how those sales numbers are affected when Season 2 of the DLC is released granting us access to an even larger roster, or when the inevitable Super Street Fighter V finally launches.
Below is a list of registration numbers from Evo 2015 and Evo 2016, and for more on Street Fighter V, keep it locked right here at Provengamer.com!
EVO 2015
Ultra Street Fighter 4 – 2,227
Smash 4 – 1,926
Super Smash Bros. Melee – 1,869
Mortal Kombat X – 1,162
Guilty Gear Xrd -SIGN- – 968
Ultimate Marvel vs. Capcom 3 – 816
Tekken 7 – 458
Persona 4 Arena Ultimax – 437
Killer Instinct – 397
EVO 2016

SFV – 5065
Smash 4 – 2637
Melee – 2350
Pokken – 1165
GG:XrdR – 903
UMvC3 – 770
MKX – 707
Tekken 7 – 543
KI – 540