Reviewed on PS4
The Walking Dead represented a new direction in story telling for Telltale back in 2012. With an emotional and compelling story mixed with fantastic relatable characters, Telltale placed themselves in game of the year conversations across the globe and have become the standard of modern story telling in video games today. The Walking Dead Season three titled: A New Frontier, is now the forth installment in the Telltale Walking Dead series, and it does not disappoint in episodes one and two. To be fair, it is really hard to tell a story with the weight and gravity of the original season and after the third installment falling some what flat and not really progressing things in the Walking Dead universe, I went into this game with mild expectations. As a fan of the series and of Telltale's work I was, and am still optimistic about the future of where they go with the Walking Dead.
In previous installments the game focuses on a little girl named Clementine who went from a helpless little girl to a strong and courageous character that has survived everything this post apocalyptic world has had to offer and then some. In A New Frontier, you follow a new protagonist named Javier, a professional baseball player, instead of Clementine from the previous two main line seasons. The first episode opens up with Javier rushing back home only to find his father Rafa has died and his family in mourning. Very early in the game the choices you are faced with already carry emotional weight and establishes the tone of the relationship with your brother. This theme continues throughout the first two episodes as you flash forward and Javi assumes leadership of the small group consisting of Kate, your brother's second wife, and his two kids. Not long into the game you cross paths with a hostel group called The New Frontier (similar to the saviors from the main line Walking Dead comic and TV show), and protagonist Clementine. I was glad to see her introduced early on in the game and to my surprise she has been hardened from life in this world overrun by zombies and awful people alike.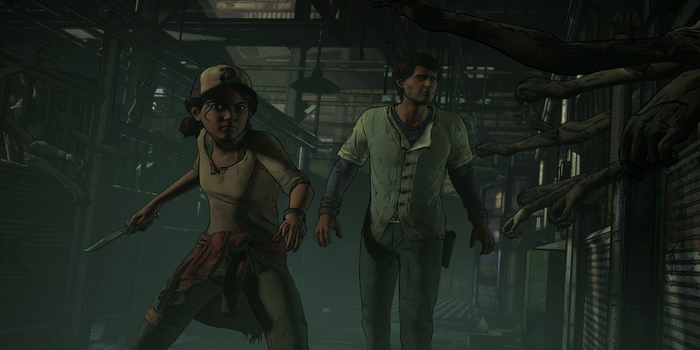 Graphically this Walking Dead game is a great improvement to Telltale's previous titles. The character design is still the graphic novel cell shaded style we know and expect, but the models are also more three dimensional and a little bit more realistic. Telltale has touted that they are using a new engine, but I have to be honest when I say do not be fooled their games still don't run well. With characters popping in and out between scenes and the slight stutters when the action picks up just shows through and through that this is a Telltale game. As for my experience, none of this affected the gameplay, but one can only imagine what the rest of the episodes will look like. Seriously, Telltale, fix your engine! Sound design and voice acting are great as to be expected, but I just wish that overall the game would run a little smoother. However, it is still an improvement from past games.
The moment to moment gameplay in TWD was really tight and between the two episodes never left me board and ready for a change. The dialogue and relationships introduced so far have been great and the QTE has not been overbearing or broken. It definitely seems that Telltale has learned a few things from previous episodes ad seasons. There wasn't any real slow downs to this point which made for great pacing. Also, as you progress throughout the two episodes there are flashbacks into what Clementine was doing in between seasons two and three. These flashbacks have been short and sweet and have continued to build an already fantastic character in Clementine. Javier is also very likable from early on and the same goes for most, if not all, of the characters introduced thus far.
All in all, this is shaping up to be a great game. New engine, new graphics, same great story telling and dialogue mixed with some new great characters and a fan favorite from the previous installments. As per usual, the twist and inevitable cliff hanger at the end of episode two was fantastic and completely unexpected. I am really enjoying where this story is going and truly cannot wait to get back into the next upcoming episodes. If you are a fan of the previous games, you will definitely like this one. If you were lukewarm towards them, I would still suggest this game as it is an improvement to an already great formula with the caveat that there are still some of the same engine issues as before. Granted they are better but still not perfect. As for first timers into the Telltale Walking Dead universe, this is still a great starting point as you follow Javier and his family closely while learning more about Clementine without being held back by not playing the first two games.